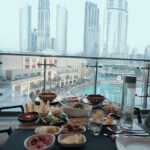 HuQQa Dubai Review
PROS
Great food selection
Awesome desserts
Many different shisha flavors available
Stunning views
Outdoor seating
Relaxing atmosphere
CONS
A little pricey
Waiting time before getting seated
If you're up for some authentic kebab and excellent shisha, you should head on to Downtown Dubai to check out HuQQa bar at the Dubai Mall. Found at the mall extension (The Market), the bar and restaurant features casual Turkish dining with unobstructed views of the Dubai Fountain.
Turkish and International Dining
HuQQa Dubai is your go-to spot if you're craving for mouth-watering Turkish specialties including kebabs and manti. The menu offers a wide selection in international cuisine and Turkish cuisine with an Arab twist.
HuQQa doesn't accept reservations and customers can walk in on a first come-first served basis. You may have to try to come early or at least be prepared to wait a little as HuQQa has become quite a hotspot for customers of all ages.
Get complimentary bread and dip upon sitting down. Go for the delicious choices of pizza, burgers, salads, and sandwiches if you want a quick bite. If you need your meat fix, steaks at HuQQa melt right into your mouth. Beef Cubes Pide, Beef Medallions, and other meat dishes are served warm and delicately cooked to perfection.
You can also order from Jain food options and a delectable mix exotic international flavors right on your plate. Salads, kebabs, and appetizers are also available for the more discerning diners. Don't skip dessert, because the restaurant has a lot to offer in that department. Try the highly recommended Pull Me Chocolate Cake or the Lotus Cheesecake.
The bar is also something that draws guests to HooQa. Choose a delicious mocktail and have your preferred alcoholic beverage held to you.
Amazing Shisha Flavors
But one reason why HuQQa is popular among patrons is because of the wide variety of exotic shisha flavors available. Customers love to talk about how smooth their experience was from high-quality shisha ingredients. If you're out for a relaxing session, you won't get disappointed with the quality of choices available. Prices for shisha start at AED 139 and come with a complimentary coffee of choice. One must-try flavor is the starbuzz pina colada, which is nothing like you've ever tried before.
Rich and Relaxing Ambience
HuQQa features a relaxing and cozy atmosphere where casual and business diners can sit down and enjoy an amazing view of the fountain. The beautiful interiors are themed with black and yellow and vibrant Turkish music just adds a taste of culture to set the perfect atmosphere. The view gets even more romantic in the evening, when you can spend time sharing a meal in view of the bright city lights. The experience is made even more worthwhile with impeccable staff who are efficient and attentive to your needs.
If you're in search of the best Turkish dishes in town and you're in for a relaxing shisha session, HuQQa Dubai is just the place for you to unwind. You can request for a terrace seating if you want an even better fountain view. Overall, the food choices are great and widely varied. There's sure to be something for everyone to enjoy.
Business Hours
HuQQa is open from 10AM to 12AM from Sunday to Wednesday, and 10AM to 1AM from Thursday to Saturday. Seating may be limited due to social distancing guidelines.
Prices
Dining for two costs around AED 430.
Contact Number
For queries and more information, call 04-566-8557.