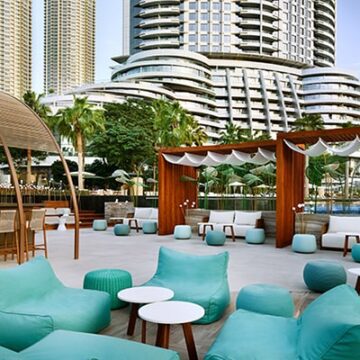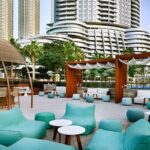 Zeta Dubai Review
PROS
Al-fresco dining
Great view of the Burj Khalifa
Food is amazing
Dubai fountain view
Welcoming atmosphere
Delicious sushi and seafood choices
Complimentary dinner for kids
CONS
Waiting time to be seated
Staff can get too busy
A little expensive
Zeta Dubai is an upscale Asian fusion restaurant offering magnificent views of the Burj Khalifa and the Dubai Fountains. It stands at Address Downtown's expanded pool terrace where guests can dine and relax for brunch or dinner. Zeta takes its name after a star system and fittingly so, because the gastronomical delights and dining experience it offers are sure to dazzle. The restaurant is known across the UAE for serving delicious Asian cuisine, Japanese food, and seafood choices.
An Exciting Take on Asian Flavors
Zeta Dubai offers a rich menu of Asian flavors enhanced with a Californian twist. Classic seafood starters like the salmon tartare and fine de claire oysters matched with spiced yuzu dip will refresh the senses and make you want for more. Signature main dishes including the wagyu ribeye steak are widely popular among patrons for its tenderness and juiciness that bring out all the rich flavors. Seafood lovers should try the sumptuous grilled seafood platter or the crunchy prawns with bell pepper cream.
Zeta serves popular Japanese delicacies including your choice of sushi, sashimi, maki, and signature rolls. The signature fountain rolls and the Burj rolls have turned out to be quite the crowd pleasers. The menu also includes some thoughtful vegetarian, gluten-free, and halal options. Brunch deals at Zeta comes with a full-course meal with a myriad of mouth-watering food selections.Zeta Dubai is also a popular spot to grab late night drinks. Try their inventive cocktails and refreshing house drinks while drinking in the romantic city lights at night.
Al Fresco Dining with Best City Views
Zeta Dubai offers some of the best views of the world's tallest skyscraper, where it sits adjacent to. The terrace where guests can enjoy comfortable outdoor seating is lushly and tastefully decorated. Diners have the opportunity to take beautiful photographs to remind them of a truly unforgettable dining experience in Dubai. Residents and tourists would both agree that Zeta is one of the places you must visit if you're looking to have a splendid dinner with a picturesque view.
The restaurant seats 400 people. (Limited seating available due to safety and health protocols.) Gold and green metal palm trees bring life to a refreshing al-fresco space and compliment the pool view to create a true oasis. Whether you're looking for a nice place to go on a date, share a meal with friends, or hold a casual business meeting, you're sure to enjoy a delicious evening at Zeta. The venue sits right in the middle of Dubai's best attractions while providing an intimate atmosphere.
Price
Approx. AED 450 for a meal for two.
Business Hours
Zeta is open for business on Saturday to Wednesday from 5PM to 12AM; and Thursday to Friday from 5PM to2AM. The restaurant offer complimentary dining to children up to 5 years and a 50% discount to kids aged 6-11 years old.
Contact Details
Call +97144368888 to book a reservation or further inquiries. For the Dubai Food Festival 2021, Zeta is offering limited-edition set menus for AED 250. Mention Dubai Restaurant Week when you book a table. The offer is good from March 25 to April 10, 2021.