PROS
Takeaway, Dine-In
Contactless delivery
Worldwide branches
Halaal food
Peculiar taste
What is Nusret Dubai?
For the most part Nusret Dubai (Nusr-Et) is a chain of Turkish luxury Steakhouses. Nusret Gokce a famous Turkish chef/butcher is the owner of this chain of Steakhouses. However, his nickname is Salt Bae. Generally his technique for preparing and seasoning meat is an internet sensation. For the most part, Nusret Gokce alias Salt Bae is famous for his theatrical salt sprinkling antics.
Nusret Dubai also offers Gold plated steaks with the cost of $ 268. The food, enjoyable atmosphere, and competent service at this restaurant earn it an excellent rating. Therefore, at this Steakhouse, meat is cooked and cut at your table in front of you with a chef's pantomime show.
Worldwide Steakhouses:
Nusr-Et opened his first restaurant in Istanbul in 2010. It was opened in 2014.
Of course, Nusr-Et is operating as an international chain of restaurants. Therefore, It is present in Abu Dhabi, Dubai, Doha, Istanbul, Ankara, Bodrum, Marmaris, Jeddah, Mykonos, Miami, New York, and Boston.
Location & Address:
Nusret Dubai is located in Jumeirah Beach Road I Restaurant Village, Four Seasons Resort Dubai
Timings:
12:00 PM to 12:00 AM
Contact Details:
+971 4 407 4100 Website : https://www.nusr-et.com.tr/
Cuisine:
Nusr-Et is famous for its Steakhouse.
Dining Style:
The dining style at Nusr-Et Dubai is casually elegant.
Dress Code:
The dress code for the Dine-in is smart casual.
Payment Options:
However, You can pay at Nusr-Et Dubai through AMEX, Diners Club, Discover, JCB, Mastercard, and Visa Card.
Menu at Nusret Dubai: The complete menu list of the restaurant is available on its official website.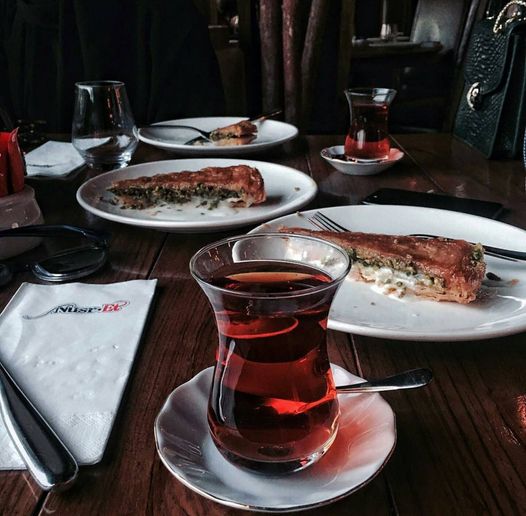 Celebrities Involved :
Nusr-Et is also famous among Hollywood superstars. David Beckham, Leonardo Di Caprio, and P Diddy are also part of Nusret's fan club.
UAE's vice president, His Highness Shaikh Muhammad bin Rashid Al Maktoum is also an enthusiast of Nusr-Et.
Dining Cost:
The dining cost for two people is AED 900 at Nusret Dubai.
Important about Nusr-Et:
Nusr-Et is a Halaal restaurant. It usually doesn't serve alcohol, but it has a separate bar for the quality wine mongers.
Images Source Nusr-Et Facebook Page: https://web.facebook.com/NusrEtDubai