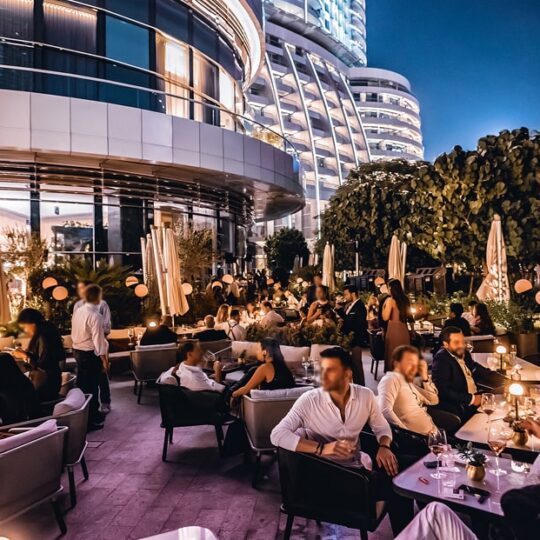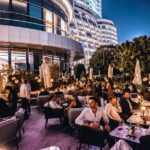 The Galliard Review - Address Downtown Dubai
PROS
Great food choices
Majestic view of the Burj Khalifa
Beautiful interiors
Live music
Terrace lounge
Fully licensed bar
CONS
Expensive prices
Overworked staff
The Galliard Dubai is a Turkish-Mediterranean restaurant that brings a sophisticated dining experience for the more discerning guests. Located at the Lobby level of Address Hotel in Downtown Dubai, it's definitely a little more upscale than your regular watering hole. The elegant eatery offers "Turkish fusion dishes," a full bar, shisha, and terrace seating where you can enjoy a breathtaking view of the Burj Khalifa. The Galliard is also popular for its lush yet vibrant atmosphere, artistic interiors, delicious cocktails, and quality music.
Contemporary Fusion Turkish Cuisine
The Galliard Dubai menu features several mouth-watering appetizers, entrees, soups, desserts, and more. The Turkish signature dishes are even more intriguing with French, Italian, and Spanish inspiration. Servings are generous and mostly good for sharing.
Sample these savory Mediterranean flavors with the Tantuni, which is beef tenderloin, lamb tail, and a mix of exotic spices wrapped in pita. You may also try the Cig Borek, which is a pastry-like delicacy made of minced beef with tomatoes, mango salsa, lettuce, and slices of walnut. Kitlama is another highly-recommended starter. These are truffles and burrata served with arugula, amaranth, and cream sauce on crispy pita bread.
Try the rotisserie organic chicken fried in butter and served with sautéed baby potatoes and bell peppers for the main course. The tender meat is moist and flavored delicately with the skin cooked to a perfect crisp. There's a whole list of exciting meat and seafood choices including the Duck Confit and the Veal Milanese. The Galliard also serves pizza and pasta.
Be sure to make room for dessert because The Galliard presents you with unique and exceptional choices. Cocosh or coconut panna cotta is a crowd favorite. You may also try the Bombolonas. These are Italian-inspired fried donuts with chocolate, cinnamon, hazel spread, and powdered sugar.
Elegantly Styled Interiors
Aside from sophisticated menu, The Galliard experience is even richer with art deco style interiors featuring Mediterranean marble and Venetian terrazzo. Original art pieces will also greet you as soon as you arrive. You can't help but notice the thought and planning that went into creating the perfect setting. House DJs play live jazz music and deep house tracks, making for a perfectly relaxing evening. Guests also have access to an outdoor lounge area with a view of the magnificent Burj Khalifa.
Vibrant Cocktails and Tasty Shisha
The Galliard offers a range of light, flavorful cocktails and mocktails with prices starting at AED 42. The bar comes full with wines, beers, spirits, and also, coffees, soft drinks, and teas. Many shisha lovers can take their pick from The Galliard's collection of tasty premium shisha. If shisha is on your mind, you have the luxury of having it served to you with a great city view.
Prices
A meal for two would cost around AED 580, alcohol not included.
Business Hours
The Galliard is open to guests from 4:30PM to 3:00AM from Sunday to Thursday, and 11:30AM to 3:00AM on Fridays and Saturdays. Business hours may be subject to change depending on social distancing guidelines.
Contact Details
You may call +971 52 489 9982 for inquiries or make a reservation online.