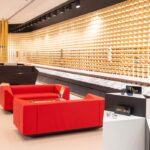 Optifashion – Sponsored Review
Visit any of their stores in Dubai
Nakheel Mall, Mall Of The Emirates, Dubai Mall, Mirdif City Center, and La Mer
PROS
1 Year Warranty
User Friendly
Easy Checkout
Free Shipping
Free Return
Low Cost
Who are Optifashion?
Optifashion is a well-known name across the UAE and globally. Their smooth designs, high-class lenses, and featured brand merchandise are some of the very best within the industry.
In Dubai, there are several ambassadors for the Optifashion brand, and you won't be surprised to know that everyone that's anyone has got a pair.
Optifashion has made a name for itself across the Gulf, and its' eyewear has been featured at several sponsored events, shows, premieres, press-releases, and much more.
Celebrity Backing
Victoria Beckham has created her own range of eyewear with Optifashion.
Whilst there is a range of positively rich styles and shapes available under the umbrella company Optifashion, Beckham's are minimalist, feminine, and truly classy.
The glasses and frames that Victoria Beckham helped to design were manufactured in Italy by Marchon Eyewear.
Zeiss Technology
Optifashion has seamlessly joined with several celebrities and brand names, however they clearly know what they are doing in the technology department too!
In recent years, they have teamed up with the well-known and respected Zeiss (Vision Care Company) in order to provide customers with perfectly matched lenses.
Zeiss has created technology that uses the human face to identify the correct lense fitting. This 3D technology scans the face and digitizes it to create lenses that fit the perfect requirements. This state of the art technology makes use of UV to detect minute details within the image.
The Boutique in City Centre Mirdif (Dubai)
This boutique store in City Centre Mirdif was opened in October 2019, and it opened with a bang! The event successfully hosted over 100 designers, editors, customers, and several influencers.
Victoria Beckham's range was featured here and guests were able to use the cutting edge Zeiss technology on themselves.
The store has since seen a highly positive response and several local Emiratis have chosen to use Optifashion for their eyewear needs.
It is currently one of the most visited stores in Dubai, and we must say they do provide you with an extremely warm welcome upon arrival.
Our Final Thoughts
All in all, we would highly recommend Optifashion, they are a sophisticated, stylish, and world-leading supplier of sophisticated eyewear.
They are quickly taking over the Gulf, and with their celebrity and technology connections, we are certain that in very little time there will be Optifashion stores in all the major cities across the globe. If you're in Dubai, then head down to the City Centre Mirdif Optifashion store, or you can visit them online to take a better look at the range of glasses they have on offer for you!

Thanks so much for Reading!